A group license for education gives students in your classes unlimited access to uTheory. The costs for an institution start at 75% off the individual subscription rate, and decrease with quantity. Group licenses include custom testing features.
Group licenses let you pay for a pack of subscriptions, so that your students can have free unlimited access to uTheory. We think it's the perfect option for school music programs, private lesson teachers, or colleges and universities that would like to adapt it for more broad use in their curriculum.
Current pricing is available here.
Here's how it works:
Login and go to teach -> licenses. Click "+" to purchase a group license: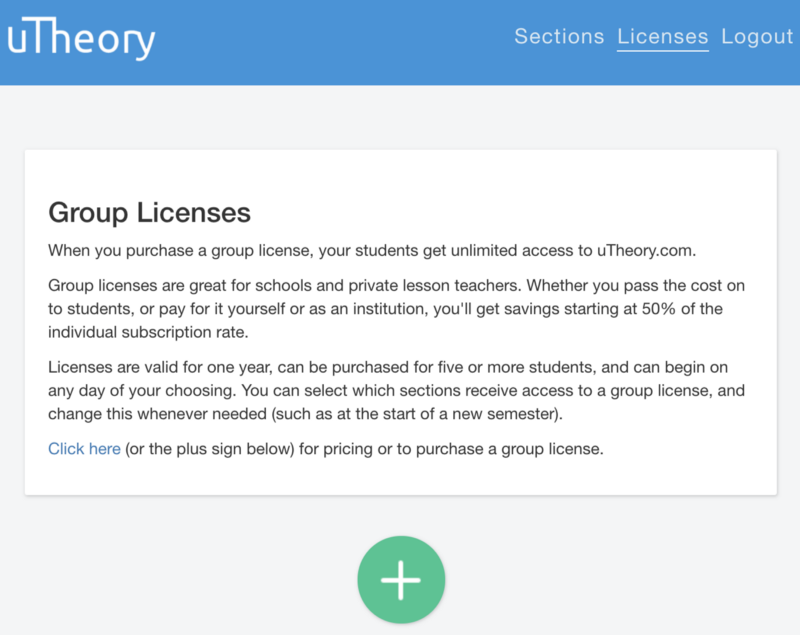 2. Go to your classes (teach -> classes), expand the options (…), and then check the "Use group license" box. See video instructions for applying the license to your classes here.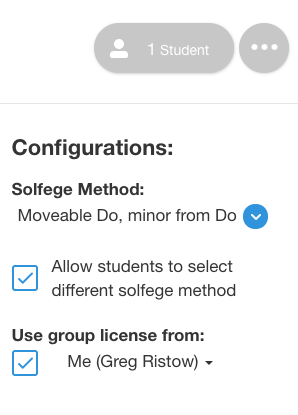 3. Invite students by copying & sending them the invite link:

Frequent Asked Questions:
What if I need to add a student later?
If you would like to add students to a current license you've already purchased, email us at sales@utheory.com and we can arrange to add these at the discounted price level for that total number of students.
Can I change which students are paid for by the license?
Yes. Students are paid for when they're in a class you've selected to be included on your group license. You can change which classes are included at any time, or add and remove students from your classes at any time.
We're a big school with many teachers who would like to be on one license. Is that possible?
Yes. Contact us at sales@utheory.com for information on how to allow multiple teachers to use one group license.
Can we pay by purchase order or check?
Yes. Contact us at sales@utheory.com to request an invoice which you can submit to your purchasing department. We'll enable your license as soon as the purchase order arrives.
What about tax exempt purchases?
Sales tax is only collected for Ohio-based licenses, so if you are not based in Ohio, this won't apply to you. If, however, you are based in Ohio, we can currently only process tax exempt sales manually. Contact us at sales@utheory.com. You will need to provide a completed & signed Ohio Sales Tax Exemption Certificate.
Have a question we didn't answer? Let us know! Email it to support@utheory.com. We'll send you the answer, and post it here, too!