We recently examined top theory resources to save time for busy educators. Books, websites, apps, podcasts, blogs, and vlogs – there's a lot of information out there! Read on for our current top picks for music theory pedagogy resources, from books to websites to podcasts and more.
Practice Space
Practice Space is a web-based music practice platform that connects teachers and students. Streamline your students' practice by easily sending a clear agenda of what to practice during the week. Create assignments with multi-media attachments such as videos of performances, PDFs of music, audio recordings and backing tracks, and links to other resources such as uTheory lessons and skills practice. See it in action:
Books
The Routledge Companion to Music Theory Pedagogy by Leigh VanHandel
Today's music theory instructors face a changing environment, one where the traditional lecture format is in decline. The Routledge Companion to Music Theory Pedagogy addresses this change head-on, featuring battle-tested lesson plans alongside theoretical discussions of music theory curriculum and course design. With the modern student in mind, scholars are developing creative new approaches to teaching music theory, encouraging active student participation within contemporary contexts such as flipped classrooms, music industry programs, and popular music studies. Get the book here.
The Routledge Companion to Aural Skills Pedagogy by Kent Cleland and Paul Fleet
The Routledge Companion to Aural Skills Pedagogy offers a comprehensive survey of issues, practice, and current developments in the teaching of aural skills. With an international array of contributors, the volume captures diverse perspectives on aural-skills pedagogy, and enables conversation between different regions. It addresses key new developments such as the use of technology for aural training and the use of popular music. This book will be an essential resource and reference for all university and conservatoire instructors in aural skills, as well as students preparing for teaching careers in music. Get the book here.
Teaching Music Through Performance Series
This best-selling series of books and recordings has quickly become the indispensable resource for music educators searching for the best possible music at all levels. Each volume provides directors with the tools they need to help performers move beyond the printed page to musical awareness and understanding, with analyses of select pieces and insights from national leaders in the field. The series include band, choir, orchestra, jazz, and young ensembles. Get the books here.
Podcasts
Notes from the Staff

Notes from the Staff is a podcast from the creators of uTheory. Join us for conversations about pedagogy, music theory, ear training, and music technology with members of the uTheory staff and thought leaders from the world of music education. Listen here or wherever you get your podcasts.
Note Doctors
Note Doctors is a podcast all about music theory and music theory pedagogy. Each episode features an interview with an innovative music theory instructor. The podcast is hosted by three university theory instructors: Paul Thomas, Jenn Weaver, and Ben Graf. Listen here or wherever you get your podcasts.
Her Music Academia
What does it mean to be a music researcher? How does a musician use music as a medium to foster community? Featuring interviews with other musicians, scholars and artists, host Lydia Bangura seeks to ask interesting questions about music and execute important and relevant music research. Join Lydia as she reads, writes and chats her way through a music PhD program. Listen to her podcast here, and read her blog here.
After Sectionals
After Sectionals features three Texas band directors – Darcy Williams, Jenna Yee, and TJ West – talking about band openly and candidly: what works, what doesn't, and everything in between. Some episodes are taken directly from class rehearsals while others are an invitation to talk shop – and smack – in the office after sectionals. Listen here or wherever you get your podcasts.
Choralosophy
The Choralosophy Podcast takes choral musicians underneath the issues related to the choral art form with a philosophical approach to both technical and intellectual aspects of teaching, singing and performing. You can find the show on your favorite podcast platform and here on this site.
Music Tech Teacher
Practical, actionable music technology tips and lesson ideas for music teachers – all in a podcast! The Music Tech Teacher podcast is a show especially for music teachers who'd like practical tips for using technology in music education. Hosted by Katie Argyle from Midnight Music, each episode features tips, lesson plans, ideas and tutorials from the show's host – an experienced music technology in education trainer, speaker and consultant. There are also regular interviews with real teachers who use technology in creative and productive ways. Learn more here.
Websites
SMT-V: The Society for Music Theory Videocast Journal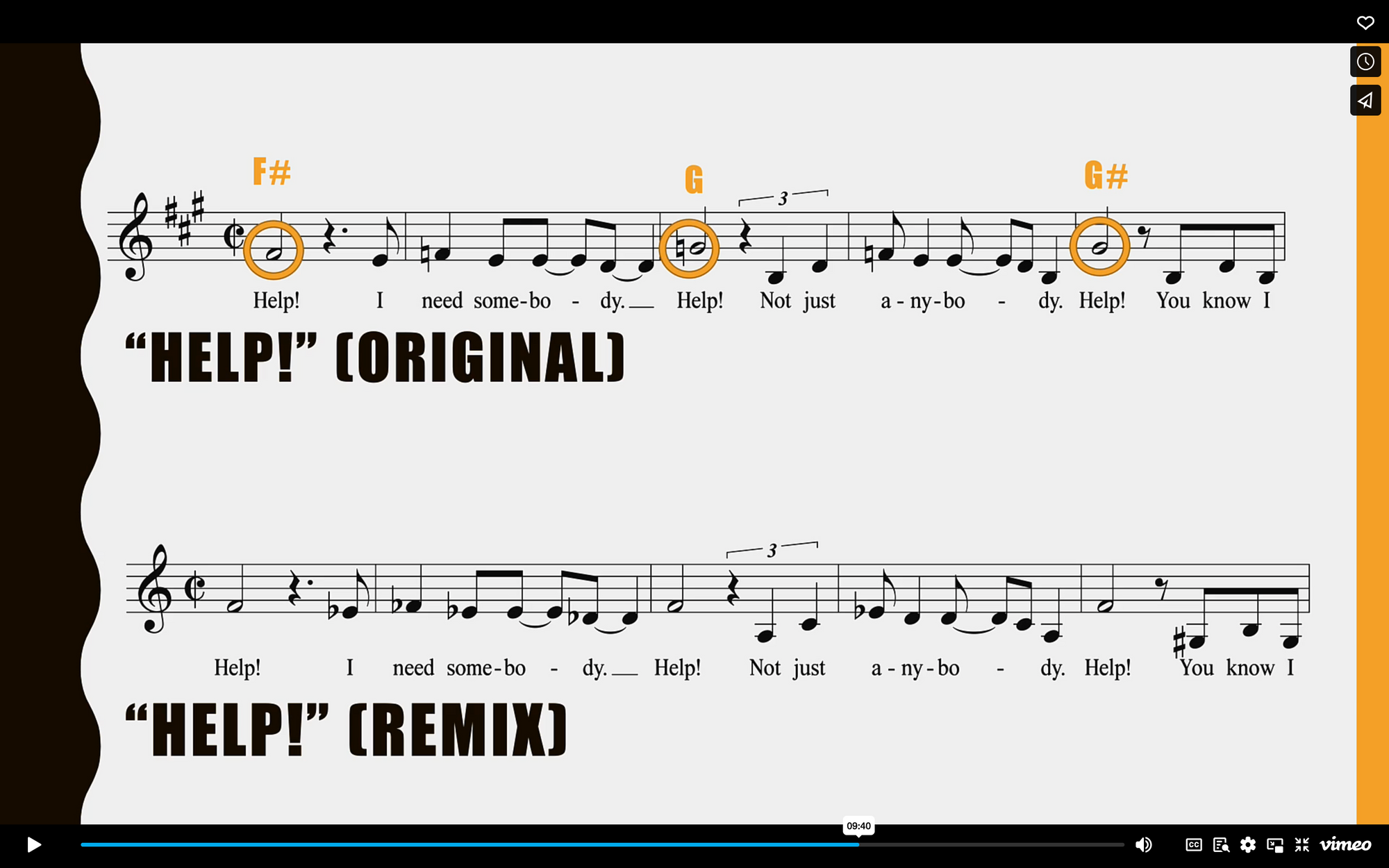 SMT-V is the open-access, peer-reviewed video journal of the Society for Music Theory. Founded in 2014, SMT-V publishes video essays that showcase research in music theory in a dynamic, audiovisual format, presented so as to have the potential to engage both specialists within the field as well as interested viewers outside the music theory community. The journal features a supportive and collaborative production process, and publishes several videos each year. Watch here.
uTheory
uTheory is an online platform for teaching and learning music theory, rhythm and ear training. With engaging video lessons, individualized practice, and proficiency testing, uTheory creates the constant learn it–practice it–develop it loop that we see in the very best teaching. Teachers can assign lessons, practice exercises, and customized tests, while uTheory does the grading. Students receive immediate feedback in lessons and practice exercises, and teachers get detailed assessment data on each student.
uTheory is fully cloud-based, and runs in a web browser on a computer, chromebook, phone or tablet, with no software or app to install. Empower your students to become independent musicians who read fluently, gain rehearsal time without sacrificing theory instruction, teach theory more efficiently with self-directed learning and individualized practice, and set students up for success in advanced music studies.
Create your free teacher account at utheory.com/teach for access to all of uTheory's lessons and exercises.
Midnight Music
Make a meaningful impact in your classroom without the tech-overwhelm! Midnight Music's mission is to demystify music technology for music educators world-wide with world-class resources, professional development tools, and expert support. Explore the blog, free training, courses and podcast (see above - "Music Tech Teacher") here.
IMSLP: International Music Score Library Project
The International Music Score Library Project (IMSLP), also known as the Petrucci Music Library, is a subscription-based digital library of public-domain music scores. The project has uploaded more than 630,000 scores and 73,000 recordings of more than 195,000 works by 24,000 composers, available for download. Browse here.
CPDL: Choral Public Domain Library
Like IMSLP, The Choral Public Domain Library (CPDL) is a sheet music archive with choral and vocal music in the public domain or otherwise freely available for printing and performing. Access the library here.
NAfME: National Association for Music Education
The National Association for Music Education is a collaborative community that supports music educators and advocates for equitable access to music education. NAfME provides publications and resources for music education, communities and professional development for music educators, advocacy tools, and student opportunities. Join here.
uTheory Printable Resources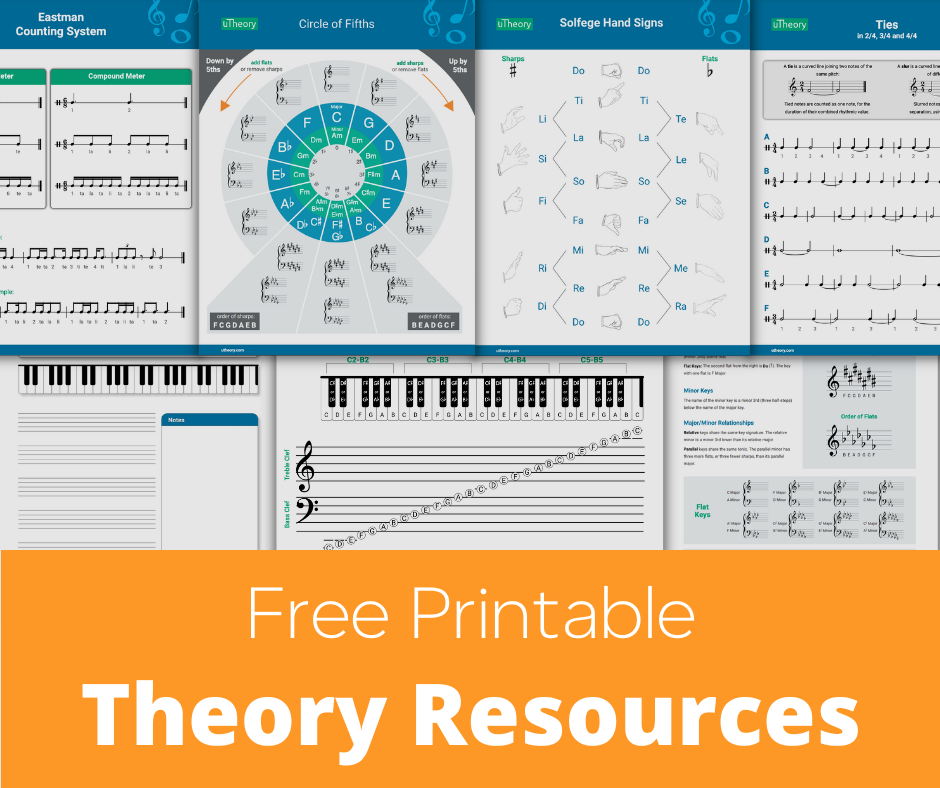 uTheory also offers free printable resources featuring music fundamental topics, rhythm concepts and practice, and even staff paper for note taking. Explore and download here.
Do you have a resource that didn't make the list? Let us know about it at hello@utheory.com!